ENVOY
Envoy is a highly versatile RFID platform that provides real-time control and automation of RFID events. The Envoy enables scalable deployments of RFID networks without interfering with existing infrastructure.

Integrating your system with the Envoy leverages standards to deliver the management and scalability that enterprises need to extract higher returns on their RFID investments.
Manage your RFID devices from one place
Configure and monitor RFID devices.
Manage and automate electrical and mechanical components
Manage device properties in groups
Push bulk firmware updates in groups
Define hierarchical business locations
Ability to extend functionality across multiple (new) auto-id technologies
Automate your operation with the Graphical Workflow Designer
Envoy transforms logic to be visually described with a Graphical Workflow Designer allowing automated RFID operations to seamlessly integrate with physical operations. The GWD is at the core of the Envoy and enables easy behavior definition, parameter configuration and rapid prototyping.
Easy to use, yet Programmable
Envoy comes pre-loaded with a comprehensive set of built-in activities designed to encompass most processes and integration scenarios. Custom activities can be programmed using the Envoy Scripting Tool to perform any custom function, algorithm or action.
Custom and Standard Tag Data Translation
Envoy complies with
EPCglobal Tag Data Translation (v1.6)
standards that validate and translate EPC encoded data to existing GS1 coding systems (GTIN, GLN, SSCC, GRAI, GIAI, GSRN, GDTI, ...) and vice versa. Envoy also supports custom tag decoding structures to enhance custom report filtering and data model integration for closed loop applications.
Host Custom Web Apps ("Plugins")
Envoy can host custom web applications ("plugins") developed using different programming languages such as PHP, HTML, JS, and Java. These plugins can be leveraged to offer users and associates the means to interact with the RFID system and monitor results in real time for a specific RFID operation.
Minimize down time with a highly available cluster
The Envoy is designed to be highly available minimizing system downtime occurrences. Envoy HA is designed to handle unexpected HW or SW failures with automatic fail-over abilities. Envoy clustering guarantees the scalability and reliability of the RFID system while maintaining maximum system up-time.
Supports different RFID Readers






Communicates With Multiple Database Servers




Connects to Electrical & Mechanical Devices




Generates Multiple Reporting Formats




Integrates With 3rd Party Applications




Supports Multiple Protocols & Services




COMPARE FEATURES AND SPECIFICATIONS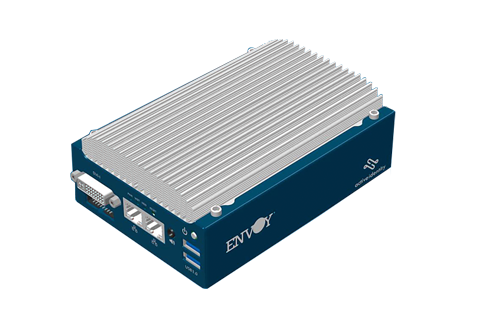 32 readers
128 external devices
3,000+ tags/second
Envoy Management Console
Readers and External Devices Management
Logical Devices Management
Graphical Workflow Designer
EPCglobal TDT standards
Plugin Hosting Support
Multiple Report Formats (JSON, XML,TXT, EPCglobal ALE...)
Multiple Protocols (TCP, HTTP, PUB-SUB, FTP...)
Multiple Reader Vendors (Alien, Impinj, Zebra, Feig, Thingmagic...)
Activity Builder
High Availibility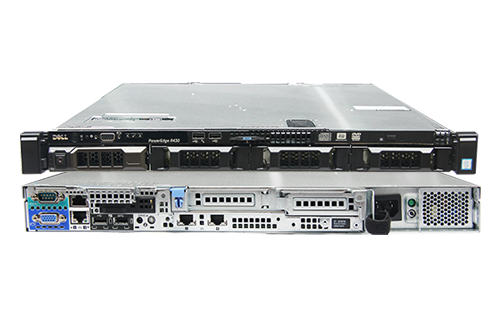 256 readers
2048 external devices
10,000+ tags/second
Envoy Management Console
Readers and External Devices Management
Logical Devices Management
Graphical Workflow Designer
EPCglobal TDT standards
Plugin Hosting Support
Multiple Report Formats (JSON, XML,TXT, EPCglobal ALE...)
Multiple Protocols (TCP, HTTP, PUB-SUB, FTP...)
Multiple Reader Vendors (Alien, Impinj, Zebra, Feig, Thingmagic...)
Activity Builder
High Availibility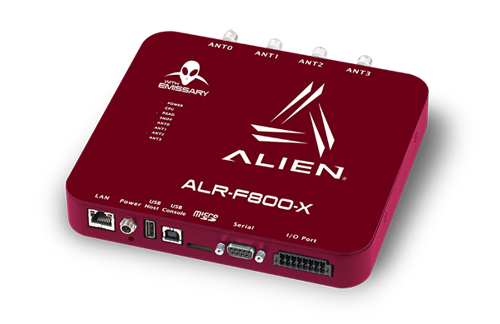 ALR-F800-X: 5 readers and 60 external devices
ALR-F800-X2: 9 readers and 128 external devices
1,000+ tags/second
Emissary Web Management Console
Readers and External Devices Management
Logical Devices Management
Graphical Workflow Designer
EPCglobal TDT standards
Plugin Hosting Support
Multiple Report Formats (JSON, XML,TXT, EPCglobal ALE...)
Multiple Protocols (TCP, HTTP, PUB-SUB, FTP...)
Alien Readers